Modwheel Angklung KONTAKT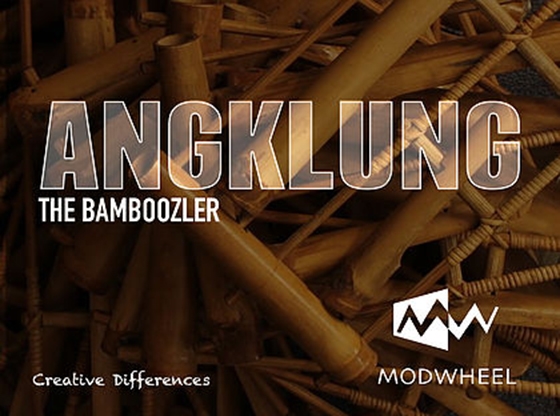 ANGKLUNG is the third release in the Creative Differences series, a percussion instrument library that focuses on quality, organic percussion sounds recorded and designed for the Kontakt user.
Following in the footsteps of HUMDRUM and THE BENDS and WORLDLY GOODS it features a collection of 24 tuned Bamboo Angklung.
The Angklung is a musical instrument from Indonesia now popular throughout South East Asia. Made of two to four bamboo tubes attached to a bamboo frame. The tubes are carved to have a resonant pitch when struck and are often tuned to octaves. The base of the frame is held in one hand, whilst the other hand strikes the instrument. This causes a repeating note to sound.
ANGKLUNG Highlights:
23 Kontakt patches of single hits, rhythms, rattles and effects.
1570 samples recorded at 24-96 kHz with contact and stereo microphones.
We're not sure what the standard Angklung set is made up of but ours has the following...
18 Angklung that have 2 bamboo rattles that play an octave apart.
6 Angklung that have 3 rattles each that play a tonic, major 3rd and a fifth. The Major chord Angklung have been kept as separate patches
The single patches have 10 round robins of both up and down playing. The up stroke plays on key release and the volume of this stroke can be adjusted using the mod wheel.
Angklung -The Bamboozler also features a few patches that aren't bamboo derived. You also get The Bambonezler a patch made up of bones, shells and seed pods.
The Bamstonezler a patch of slate stone hits that have been tuned and will play chromatically.
Features:
23 Patches of Tuned Bamboo Angklung
24bit 96kHz Multisamples (1570 samples)
2.58GB Core Library (1.4GB via lossless compression)
Note: Requires Full Version Kontakt 5.3.0 or higher
home page:
bit.ly/1o2PBng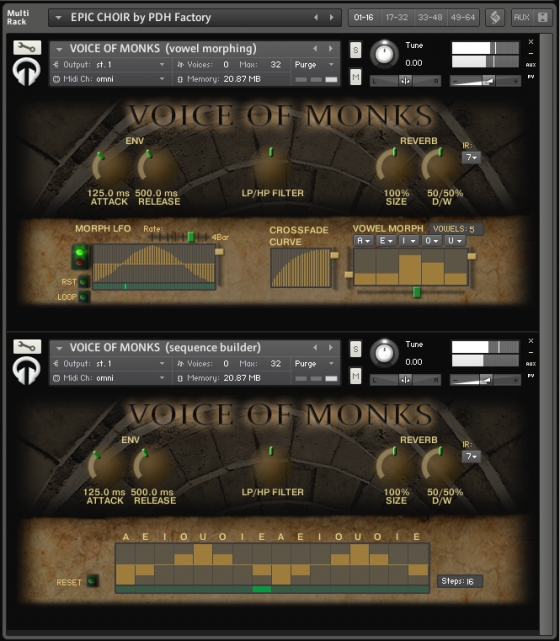 PdH Factory Voice of Monks KONTAKT
The Voice of Monks is the second library from our Voices series. It is inspired by gregorian chant-style of liturgical singing. We created an innovative instrument based on a male voice. We used techniques like layering or impulse resposes to create impression like a real choir. This library will enhance your production for soundtracks, trailers, video games, or any genre of music.