Vienna Chamber String Quartet Violin KONTAKT
This is a keyswitched compilation of the best from the VSL Symphonic Cube Violin.
It may seem old now, but keep in mind even the newest VSLs still use these samples.
2 categories:
Basic articulations: (keyswitch (C0 - F0) with 6 articulations)
Dynamic articulations: (keyswitch (C0 - G0) with 8 articulations)
KS explanation:
oV - ohne Vibrato (without vibrato)
mV - mit Vibrato (with vibrato)
This is Kontakt 5.3.1 instrument. It will not work with any earlier versions of Kontakt.
Instrument samples are compressed.
Instruments use from 70 to 100 MB of RAM alone.
Both viola and cello will be uploaded soon with the same KS structure.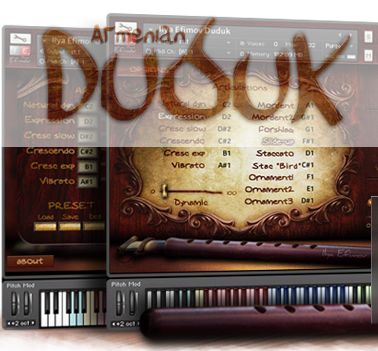 Ilya Efimov Armenian Duduk KONTAKT
The Duduk is a traditional Armenian woodwind instrument, originating in the fifth century.
The sound of the duduk, if not the instrument itself, has become widely known through its use in popular film soundtracks. Starting with Peter Gabriel's score for Martin Scorsese's "The Last Temptation of Christ", the duduk's sound has been employed in a variety of genres to depict archaic and mournful moods. Djivan Gasparyan played the duduk for the soundtracks of "Gladiator", "Syriana" and "Blood Diamond", among other films. It was used sililarly in The "Chronicles of Narnia: The Lion, the Witch and the Wardrobe".