UJAM Beatmaker KANDY v2.1.2 WiN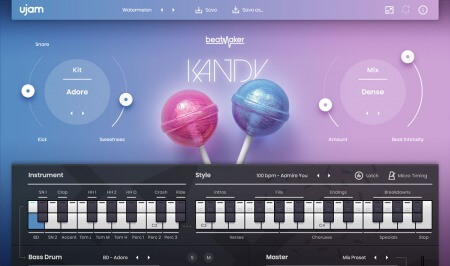 KANDY is a bleeding-edge virtual beatmaker, employing extremely processed samples and state-of-the-art sound design for the top of the billboard charts. Easily create beats for the entire bandwidth of modern A-list pop music!
Punchy, yet sensual
One thing A-list pop artists have in common is an emphasis on beats. The beat is often the central element carrying and defining the song, and while the rhythms are coming from a wide range of genre backgrounds, they all share certain qualities!
Glossy polish – ready for the big stage
Contemporary pop beats are big, not to say huge, they cut through the mix with precision and force and they are very meticulously programmed and often extensively automated. Long gone are the days where a pop song could be carried by one or two static loops straight from a drum synthesizer!
For chart breakers
KANDY is the new title to UJAMs Beatmaker series, which makes producing outstanding beats for your music fast and easy. It instantly syncs to your DAW's tempo, and you can play a near-infinite variety of beats.
home page:
https://bit.ly/2Kfzgge